Here at Absolute Training we give each and every candidate our Absolute Attention, if you want to succeed, call Absolute Training.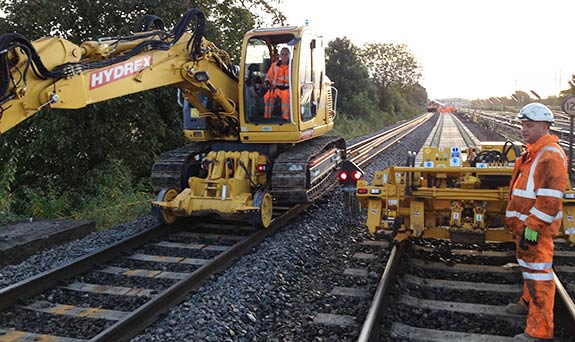 Engineering Supervisor
Overview of the Engineering Supervisor Course
The Engineering Supervisor initial course is designed with the focus upon the role of the delegate within the scope of implementing safe systems of work, whilst attaining and understanding of how to utilise the available resources required whilst working in a Running Line Possession, including safe working practices and controlling train movements.
This course is essential for personnel who are to conduct Engineering Supervisor duties whilst setting up a work site within a possession and which may include engineering train movements.
Course Duration of the Engineering Supervisor Course
2 days.
Maximum No. Of Delegates for the Engineering Supervisor Course
Up to a maximum of 6.
Engineering Supervisor Course Pre-Requisites
That the candidate currently holds a valid Sentinel Safety Card.
That the candidate's suitability has been verified by their line manager.
It is the responsibility of delegates' management system to ensure that the delegate currently holds a COSS competence.
That the candidate is in possession of a current competency Logbook.
Delivery of the Engineering Supervisor Course
The course will be presented by approved trainers in the classroom using the accompanying visual aids, Power point presentations and simulated classroom assessment sessions along with some practical assessments.
Engineering Supervisor Course Competence
The training will be followed by theory and practical assessments. Successful delegates will be recommended for assessment of competence under their Employer's Competence Management System.
Course Aims And Objectives of the Engineering Supervisor Course
To understand the role of the Engineering Supervisor and under what circumstances they may be appointed.
Be able to interpret reference documentation, plans and what information will be provided during a pre planning meeting.
Implement procedures applicable to GERT 8000 – HB 12 Issue 1
Understand the importance of briefings and communications protocols.
How to conduct emergency protection of a railway line.
Identify and understand the role and appointment of a PICOP or SPICOP.
To be able to follow clear procedures before, during and after the commencement of the work
Correctly identify protocols to be followed when organising or initiating all train movements.
State hand back, suspension or over running procedures including change over protocols.
Certification of the Engineering Supervisor Course
Upon successful completion of the course and any additional modules the National Competency Control Agency (NCCA) will be informed of a decision of competence and the candidate will be issued with a new Sentinel card stating (P)ES. This is provisional status that requires a mentorship period of up to four months, followed by a post-mentoring assessment before full competence is obtained.
For further information on the Engineering Supervisor Course or any other courses please contact us
Please see below for further information about the Accredited Rail Safety Courses we offer:
Please see below for further information about the Auxillary Operating Duties Courses we offer: