Here at Absolute Training we give each and every candidate our Absolute Attention, if you want to succeed, call Absolute Training.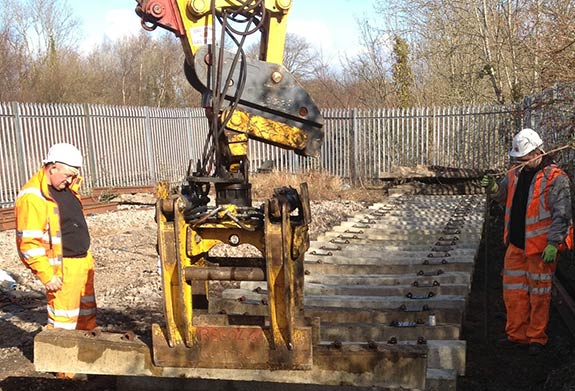 Hand Trolley Controller
Hand Trolley Controller course is no longer run under the NCCA Sentinel Scheme. However, we can deliver the training as an in-house course.
Hand Trolley Controller Course Duration:
1/2 Day
Hand Trolley Controller Course Venue
Abercynon or Customer's Own Site
Who Should Attend the Hand Trolley Controller Course
This module is designed to train persons who are responsible for controlling the use of Hand Trolleys when used on Network Rail managed infrastructure. It is designed to develop a person's knowledge, understanding and skills in the safe use of hand trolleys as defined in standards and is therefore particularly suited to persons required to prove their competence in these areas.
Before attending this training, a person should have successfully completed function specific induction training (eg, Track, Signalling, Electrification), hold a current Sentinel Track Safety Card and worked on the track infrastructure for at least one month.
A safety helmet, full PPE including trousers, safety footwear and gloves is also required.
Objectives of the Hand Trolley Controller Course
Carry out the necessary preparations in line with work requirements
Complete appropriate visual checks including close visual inspection of the braking system and manual tests to ensure that the hand trolley is in a safe and usable condition, suitable for task and any required certification/calibration is valid and current.
Identify wear and defects that may prevent safe and proper use of the hand trolley
Select and use personal protective equipment appropriate to using a hand trolley
Control and operate the hand trolley safely taking account of the manufacturer's instructions.
Understand what safe systems are required to be put in place prior to the hand trolley being placed on the track, including the safe and approved method of working to be employed to ensure the safety of others.
Content of the Hand Trolley Controller Course
Welcome and Introduction
Pre-use checks
Safe use of hand trolley
Practical session
Learning Approach for the Hand Trolley Controller Course
Tutor led classroom sessions. The course includes practical activities conducted in a safe working environment where they will be able to demonstrate the actions that require to be taken. Manual handling will take place so all delegates must have knowledge of manual handling operations.
Features of the Hand Trolley Controller Course
During the training, delegates will demonstrate that they:
Have the underpinning knowledge to be able to control and use Hand Trolleys safely and effectively in line with current industry stan
Can complete appropriate visual checks and manual tests
Can assemble the Hand Trolley safely and effectively in accordance with the manufacturer's instructions
Can use the Hand Trolley safely and effectively in accordance with Network Rail Standards and COP 18 M&EE Group
The training will be followed by written and practical assessments
On successful completion of the activities, a Statement of Achievement will be issued to the delegate by the trainer/assessor
For further information on the Hand Trolley Controller Course or any other courses please contact us here.
Please see below for further information about the Accredited Rail Safety Courses we offer:
Please see below for further information about the Auxillary Operating Duties Courses we offer: