Here at Absolute Training we give each and every candidate our Absolute Attention, if you want to succeed, call Absolute Training.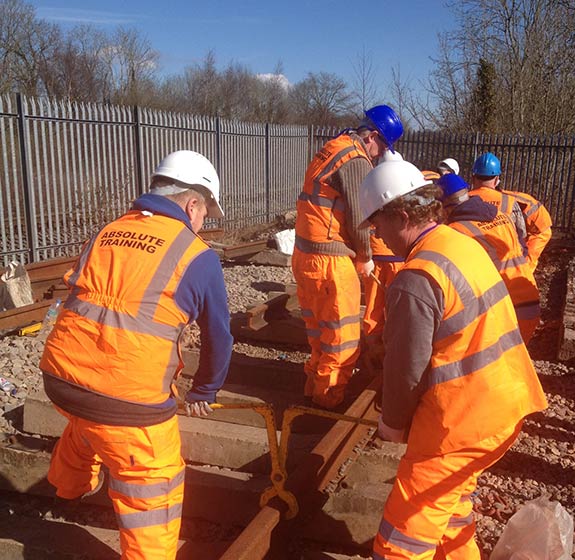 Protection Controller
Venues for the Protection Controller Course
Abercynon or Customer's Own Site
Who Should Attend the Protection Controller Course
Anyone aged 18 or over that already holds a valid COSS certificate and is now required to establish safe and effective systems of protection for more than one group of persons carrying out engineering works. Railway Group Standard GO/RT 3358 (Persons Responsible for Protecting Work On or Near the Line) requires employers to select delegates for this role based on documented processes to assess aptitude and prior experience. The Network Rail Approved Training Plan for PC specifies that delegates must provide documentary evidence of having carried out a minimum of 6 COSS duties in the previous 6 months.
Content of the Protection Controller Course
Procedure for blocking the line and arranging protection
Starting work, during work, change of PC/COSS
When work is completed or suspended
When work is not completed or suspended at an agreed time, resumption of work
Learning Approach for the Protection Controller Course
A classroom based event with trainer led sessions, group and individual exercises together with a detailed case study. A theory assessment is included.
Features of the Protection Controller Course
On successful completion of this event an application will be sent to NCCA for a competence certificate valid for 2 years. The certificate will be registered on the NCCA database as provisional and the delegate will not be permitted to undertake PC duties alone until the appropriate assessments have been carried out as explained below.
Delegate must undertake the duties of a PC with a mentor on one or more occasions. This should be documented and counts as the first assessment. The line manager may then authorise the delegate to undertake PC duties alone
An independent workplace assessment (2nd) must be carried out within 3 months of the initial training. NCCA must be notified of the result and will change the database records to record full competence if successful.
After the initial 2 year period, each delegate will be assessed as per sentinel scheme.
Special Requirements for the Protection Controller Course
A valid medical certificate that complies with Railway Group Standard GO/RT 3353 including normal colour vision
Evidence of a negative drugs and alcohol screening in accordance with Railway Group Standard GH/RT 4000
A valid PTS certificate and COSS certificate must be presented to the trainer at the start of each event
A Personal Rule Book must be brought to the event by each delegate
NCCA site ID and address of sponsoring organisation will be required when booking the event
For further information on the Protection Controller Course or any other courses please contact us
Please see below for further information about the Accredited Rail Safety Courses we offer:
Please see below for further information about the Auxillary Operating Duties Courses we offer: